the Ocean City Boardwalk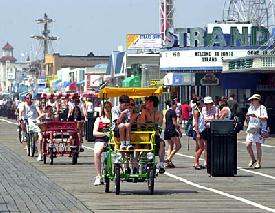 The boardwalk in Ocean City is 2 1/2 miles of boardwalk from St. James Place to 24th Street with shops, restaurants, the Music Pier,
amusements, arcades, miniature golf, and other exciting features. From early in the morning until 11:00 AM, you can ride a bicycle or
surrey on the boardwalk. There are special lanes marked on the boardwalk for this and is a fun way to get your exercise. You can see, hear
and smell the ocean and it is so refreshing and beautiful. You also can stroll along this walk and enjoy the sites, shop, go to the movies
and the amusement parks or eat...Ocean City's favorite pastime!
Here is a map of the Ocean City Boardwalk.
Click on it for a Large Print Version
which includes a full list of shops within the Boardwalk area.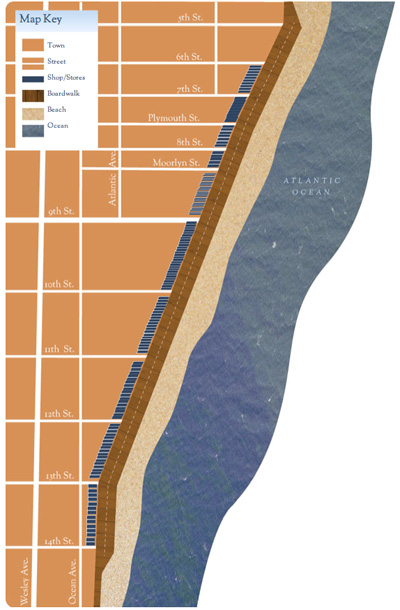 I have compiled the following information as a guide to what to expect on our boardwalk.....it is like no other!
Bicycle and Surrey Rentals
Annarelli's - 1014 Asbury Avenue - 399-2238
Bob's Bicycles - 1368 Boardwalk - 399-3434
Galante Bikes – 943 Ocean Avenue – 399-6700
Harbour Light Bicycle Rental – 730 Moorlyn Terrace – 399-4509
McDowell – 13th and Boardwalk – 399-7121
Ocean City Bicycle Center – 8th and Atlantic – 399-5555
Ove's Bicycle Rental – 4th and Boardwalk – 398-3712
Surf Buggy Center – 860 8th Avenue – 399-2468
13th Street Bikes – 13th and Boardwalk – 399-7121
34th Street Bikes – 34th and West – 398-6431
12th Street Bike Rentals – 12th and Boardwalk – 399-2814
7th Street Bike Rentals - 7th and Boardwalk

Amusements and Arcades
The Courses – 936 Boardwalk
Fun City – 1216 Boardwalk – 398-6800
Jilly's Arcade – 1168 Boardwalk – 399-2814
Playdium – 650 Boardwalk – 399-2682
Powerhouse – 968 Boardwalk – 391-8880
Wonderland Pier - 6th and Boardwalk
Gillians Waterpark - Plymouth Place and Boardwalk - 399-0483
Playland Amusement Park - 1028 Boardwalk - 399-4751
Miniature Golf Courses
Castaway Cove at Playland – 10th and Boardwalk – 399-4751
Congo Falls Adventure Golf – 1132 Boardwalk – 398-1211
Golden Galleon Golf – 1124 Boardwalk – 399-3186
Goofy Golf – 920 Boardwalk – 398-962
Junk Yard Golf – 1336 Boardwalk – 398-0046
Tee-Time Golf – 7th and Boardwalk – 398-6763
Clothes Shopping
Breezin' Up – 1040 Boardwalk – 398-9400
Christine's Sportswear - 846 Boardwalk - 398-3183
Cloud 9 -976 Boardwalk - 399-8989
Gar Sales – 808 Boardwalk – 398-5402
The Islander - 922 Boardwalk - 398-3069
Making Waves – 1010 Boardwalk – 525-0662
Pockets Plus - 984 Boardwalk - 399-4203
Separately Swimwear – 816 Boardwalk – 398-2922
Summersalt – 904 Boardwalk – 399-3101
Sunsations – 826 Boardwalk – 398-21
T-Shirts
B & D's T's - 960 Boardwalk - 398-5229
Connection - 1110 Boardwalk - 398-4941
Duncan's - 1248 Boardwalk - 399-5927
Riptide East - 1320 Boardwalk - 391-0488
Surf Mall - 12th and Boardwalk - 398-1533
T Shirt World - 716 Boardwalk - 398-3800

More Shopping on the Boardwalk
All Campus – 1070 Boardwalk – 814-0576
Artistic Creation – 966 Boardwalk – 399-5565
Barefoot Trading Co – 1238 Boardwalk – 399-8300
Boardwalk Characters – 1064 Boardwalk – 398-8100
Boardwalk Embroidery – 1028 Boardwalk – 814-9100
Dream Catchers – 704 Boardwalk – 398-6551
Island Fever – 824 Boardwalk – 399-7071
Life Style – 762 Boardwalk – 399-4710
Lighthouse – 1130 Boardwalk – 398-7998
Linda's – 1300 Boardwalk – 398-3979
Mia's Christmas Gallery – 1078 Boardwalk – 525-2455
Ninety Nine Cent Store – 1044 Boardwalk – 399-7368
Ocean City Dog and Kitty Pet Boutique - 826 Boardwalk - 938-0171
Ocean Treasures – 1008 Boardwalk – 399-5549
Old Salt Gift Shop – 1312 Boardwalk – 399-1063
Pushpa Imports – 1006 Boardwalk – 399-6332
Sand Pebbles Gallery - 1324 Boardwalk - 398-5366
Shore Designs – 902 Boardwalk – 399-4700
Somers at the Shore – 662 Boardwalk – 398-1115
South Seas Shop – 768 Boardwalk – 399-2871
Wharf – 928 Boardwalk – 398-3767
7th Street Surf Shop - 654 Boardwalk - 391-1700
7th Street Surf Shop - 1188 Boardwalk - 391-7877
Toy Stores
Air Circus Kite Shop – 1114 Boardwalk – 399-9343
Toy Safari – 1030 Boardwalk – 398-6700
Great American Fun Store – 936 Boardwalk – 399-2219
Jewelry Stores
Henry's Fine Jewelry - 1236 Boardwalk - (800) 214-4435
Jewelry Hut - 1308 Boardwalk - 399-9634
Kimberlee's Designer Accessories – 1362 Boardwalk – 927-0880
My Place – 1154 Boardwalk – 399-1253
Name Station – 930 Boardwalk – 398-2218
Terry Ivory Jewelry – 952 Boardwalk – 391-1166
Ice Cream and Frozen Desserts
Anthony's Water Ice – 6th and Boardwalk – 391-7800
Baskin Robbins – 822 Boardwalk – 398-4848
Dairy Queen – 1040 Boardwalk – 398-0064
Frosty Bites Ice Cream Company – 10th and Boardwalk – 398-5933
Kohr Bros Frozen Custard – Moorlyn Terrace and Boardwalk - 399-8764
Kohr Bros Frozen Custard - Wonderland Pier and Boardwalk – 391-9363
Kohr Bros Frozen Custard - 12th and Boardwalk – 399-1332
Kohr Bros Frozen Custard - 7th and Boardwalk – 399-6327
Rita's Water Ice – 714 Boardwalk – 398-3385
Rita's Water Ice - 1348 Boardwalk – 391-8599
TLC Polish Water Ice – 1068 Boardwalk – 399-2662
Pizza
Angelo's Pizza – 706 Boardwalk – 399-8865
Angelo's Pizza - 1328 Boardwalk – 398-1799
Bob's Classic Pizza – 1368 Boardwalk – 399-6540
Joe's Pizza – 1214 Boardwalk – 399-4694
Mack & Manco Pizza – 758 Boardwalk – 399-2783
Mack and Manco Pizza - 920 Boardwalk – 399-2548
Prep's Pizzeria – 1004 Boardwalk – 398-0636
Primo Pizza - 832 Boardwalk - (609) 525-0022
Roma Pizza – 656 Boardwalk – 399-6597

Other Foods
Ain't We Sweet - 1310 Boardwalk - 391-8898
Bashful Banana Bakery – 946 Boardwalk – 398-9677
Auntie Annie's Pretzel - 830 Boardwalk – 398-3987
Fralinger's Salt Water Taffy – 11th and Boardwalk – 399-2202
Fudge Kitchen - 800 Boardwalk - 884-4287
George's - 7th and Boardwalk
Johnson's Popcorn - 7th and Boardwalk
Johnson's Popcorn - 828 Boardwalk - 398-4484
Johnson's Popcorn - 1360 Boardwalk - 398-5404
Laura's Fudge Shop - 1136 Boardwalk - 399-4434
Morrow's Nut House - 950 Boardwalk - 399-1649
Philly Twist Soft Pretzel Co – 7th and Boardwalk – 398-0577
Ralf's Dog House – 744 Boardwalk – 398-4585
Shriver's Salt Water Taffy - 9th and Boardwalk - 399-0100
Steel's Fudge - 1000 Boardwalk - 398-4051